Tippy Toe RV & Camper Sales storage offers 24 hour audio and video surveillance in our fenced-in storage yard.
Weekly $50.00
Monthly Storage Rate $75.00   (Locals $55.00)
Locals Annual Storage Paid annually in advance $660.00 (No towing provided for Local Storage.)
Annual Campground Storage $900.00 per year
Annual Storage Paid Quarterly By Automatic Draft  $225.00 per quarter
Towing Services and Rates
TOWING SERVICE IS PROVIDED FOR ANNUAL STORAGE CUSTOMERS ONLY.
NOTE: Please call us as soon as you make your reservation or at least 7 days prior to scheduled delivery date.  If reservation for delivery is made to Tippy Toe RV & Camper Sales 48 hours or less prior to desired arrival, an additional fee of not less than $15.00 will be added to your towing fee.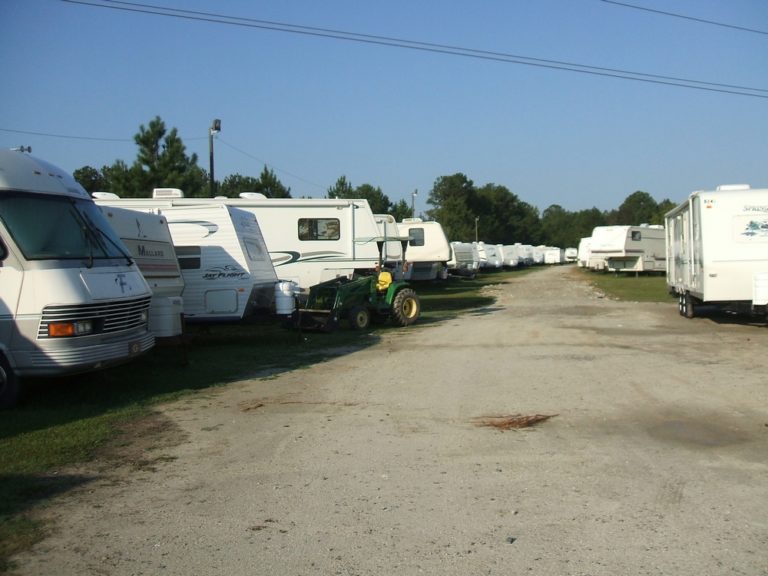 Towing Rates:
$40 Each way for annual customers
Tire inflation checked before delivery. (with 7 day notice)
You Choose the Campground
Myrtle Beach Travel Park
Apache Family Campground
Willow Tree Campground
North Myrtle Beach RV Resort and Dry Dock
Briarcliff RV Resort
Carolina Pines RV Resort
Barefoot RV Resort
When you arrive, your camper will be COOL and plugged in with the Refrigerator on. This is a big customer favorite.
"Full Service Setup" is available and includes water, sewer, cable, and TV connection. Your unit is leveled and ready to go. Just bring your toothbrush and pajamas. $35.00
Towing Reservation Request
"*" indicates required fields